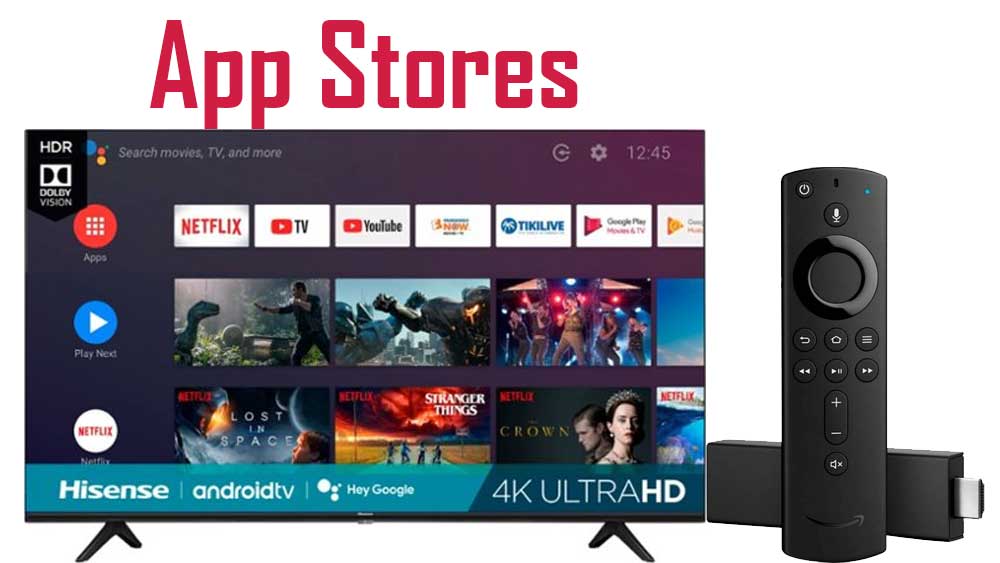 Amazon Fire TV is also an Android TV box. Even though it is called a different name it based on Android TV. So, you can install any Android TV app or game on Fire TV devices too. But this TV box has difference with other Android TV boxes. Mainly Fire TV does not have Google play store. So, you don't have access to Google play services.
Amazon want to keep their Android TV boxes unique with their features in order to reduce competition. For example, Amazon devices has Alexa for Google voice, Amazon App store for Google play store and the list continues. However, alternative or subtitles for Google services offered by Amazon are not garbage. Some of them are better than google products without any doubts.
There are many Amazon Fire TV devices you can choose. For example, Fire TV Stick, Fire TV Stick 4K, Fire TV Stick Lite, Fire TV Cube and etc. Many who use those devices looked for alternative app store. Because they want to install apps and games that are not available on Amazon App Store. Is there any better alternative to Amazon App Stores? Yes absolutely.
Fire TV app stores
For Android phones there are AC Market, Aptoide, AppVN and more. There are not many choices when it comes to TV boxes. Filelinked, Aptoide TV and APKTime are the best available Fire TV app stores. Those three are different from one to another. Filelinked based on user created and maintained stores. Filelinked is not just a single store. Anyone can create a store on Filelinked and add their list of favorite apps and games. It's up to you to find awesome collection of Filelinked store. You can find best Filelinked codes for Android TV using Facebook groups and YouTube.
APKTime does not has many apps and games. It is mainly focused on free Movies, TV shows, Sports and other streaming apps. If you are looking for free stuff APKTime is best for you.
Aptoide TV is the best alternative for Google play store. You can find best Android TV apps and games that are available on play store for free in Aptoide TV app. You can also install apps and games that are only available for phones and tablets on your TV box easily with the help of Aptoide TV. For example, if you want to install performance booster application like Clean Master on your TV box. You can't install this application using play store. However, you can use Aptoide TV app to install this app easily. No need to download apk file to your computer and transfer it to TV box and do hard process to install it.